In the main discipline of the competition — course–race, the three leaders among skiers was as follows. The first was the Ukrainian rider from Kharkov Dmitry Yasnolobov, he gave the Mikhail Konstantinov (Moscow) and Nikita Kodanev (St. Petersburg), sitting in second and third place respectively. First among the girls came Sofia Nikogosova (Moscow).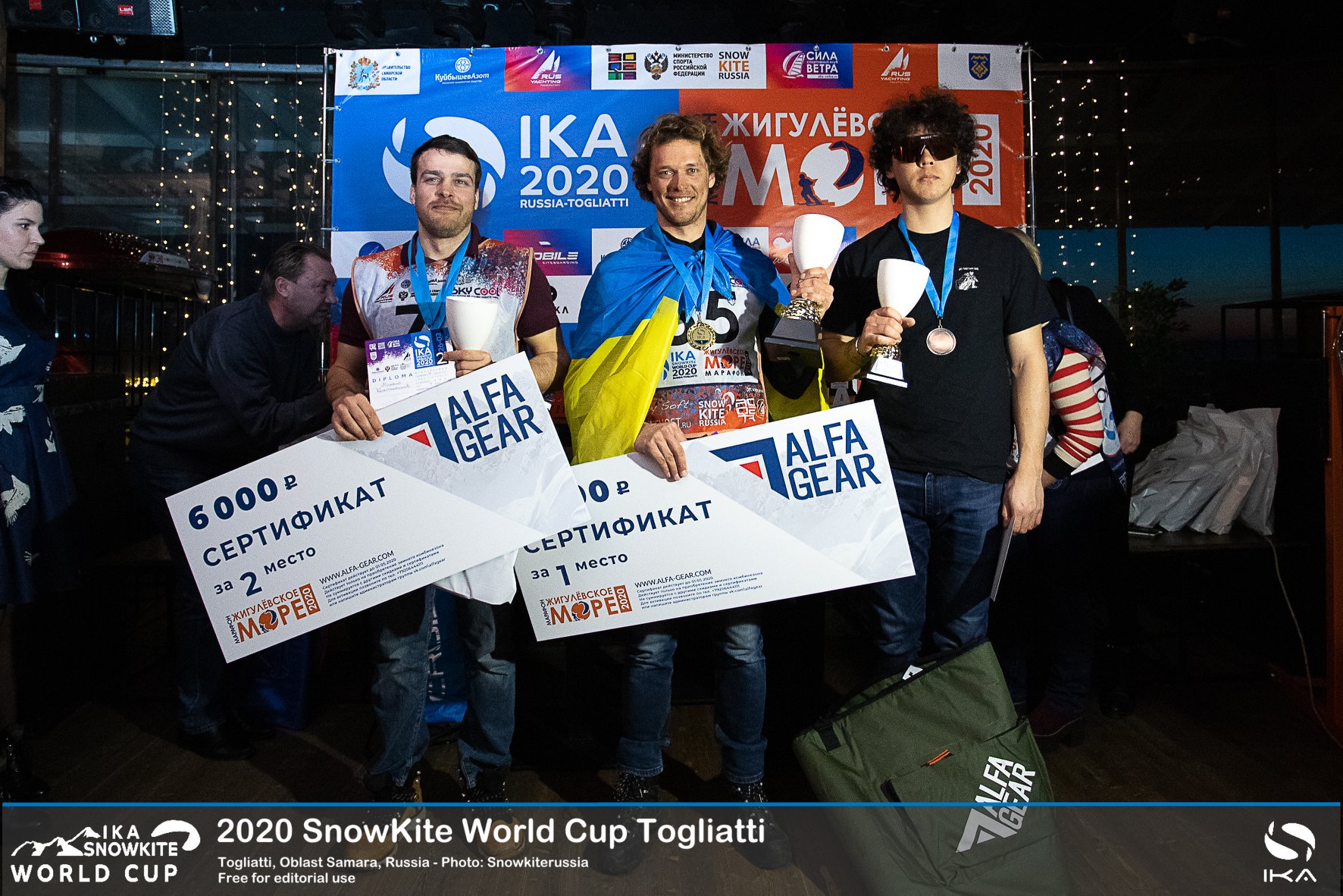 Among snowboarders, the podium was shared by Nikita Sokolov (St. Petersburg), Gennady Sheliganov (Kolomna) and on the lower step of the podium Egor Kamalov (Zlatoust). First among women was Valeria Garashchenko from St. Petersburg.
Last day of winter, February 29, was reserved for the discipline of a long distance. Owing to weather conditions to hold on the mini version - about 35 km in waters of Kuibyshev reservoir storage. At the marathon distance in the class kite-ski to the finish line first came Mikhail Konstantinov (Moscow), followed by - Ilya Turban (Surgut), and the third finished the race Nikita Kodanev (St. Petersburg). First among the girls and there was Sofia Nikogosova.
Among snowboarders the absolute winner was Valeria Garashchenko (St. Petersburg). The second - Egor Kamalov (Zlatoust) and the third - Artem Garashchenko (Ekaterinburg).
Freestyle competitions this year, this year was held on the updated rules and the judging criteria. For the first time at the world Championships, athletes had to perform a mandatory program for the stunts in the figures in each heat- amplitude departures from the kicker - Front blind mobe, slim chance, KGB - good and the moves. For every trick the jury charged a certain number of points according to the table, depending on the complexity of adding points for amplitude and style, or reducing the bad landing.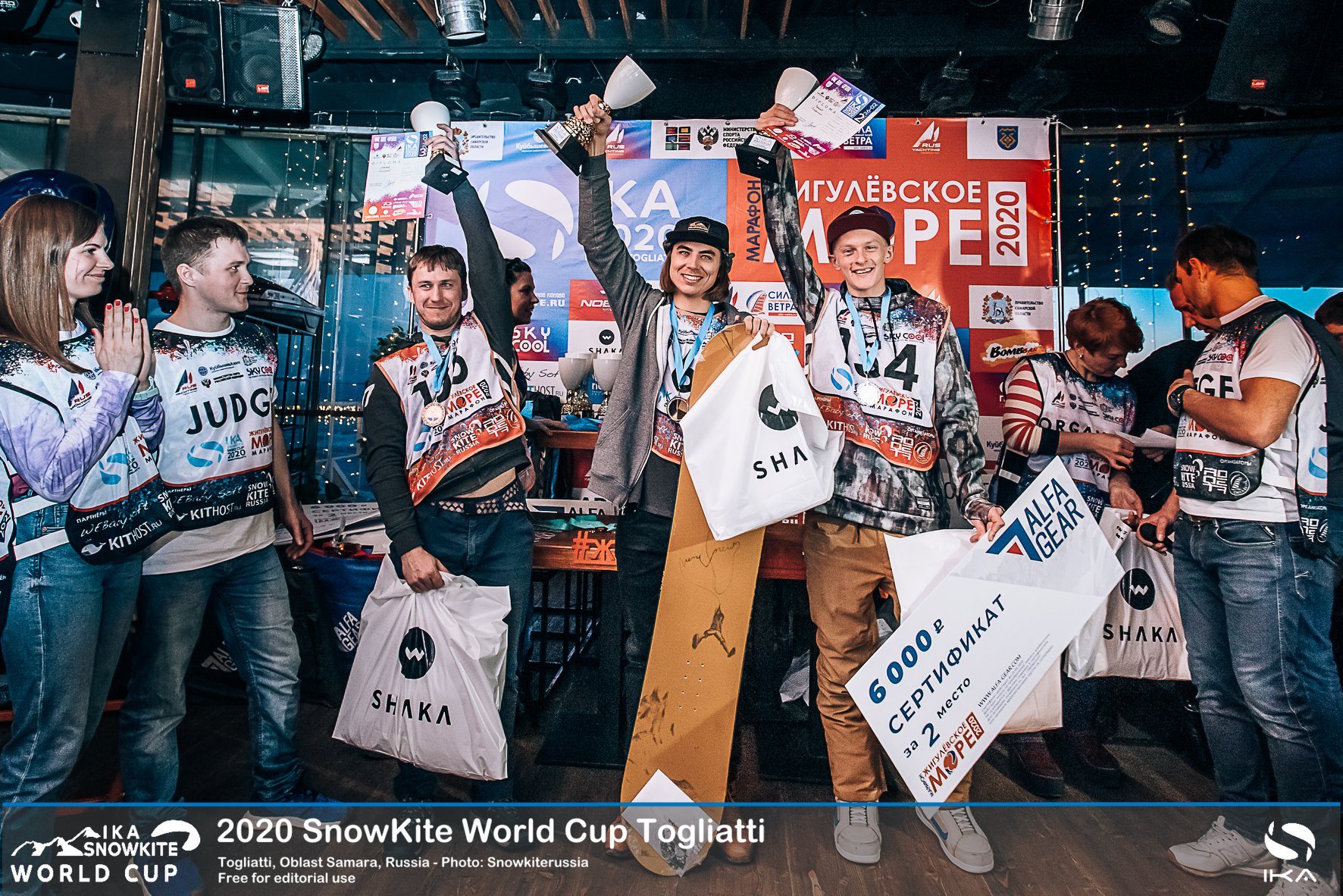 The best in freestyle skier-snowboarder judges acknowledged Artem Garashchenko (Ekaterinburg). On the second and third positions were Cheganov Vladimir and Dmitry Molokov. Among freestyle skiers in the first place, Anton Cherkashin, in the second - Artyom Murashev (Novosibirsk), in the third - Vadim Erofeev (Togliatti). Among the girls, Daria Polunina (Yekaterinburg) became the best. In the kite freestyle discipline, the final stage is scheduled for late March in Italy. If it takes place, the world champion of this year will be determined there.
In parallel with the IKA 2020 SNOW KITE WORLD CUP, the "Zhiguli Sea" starts took place, in which lovers and children competed.
In the junior kite class "JKS" 17 young champions in three age categories competed with leaders Nelya Ochaeva (Novosibirsk), Savva Kilpio (Moscow) and Violetta Semenikhina (Novosibirsk).
40 fans took part in the fan races. According to the results of four races, the three leaders formed as follows: fan ski race: Semakov Vladislav (Togliatti), Kolykhalov Stanislav (Togliatti) and Koshelev Vladimir (Togliatti); Snowboard fan race: Gaynullin Sergey (Togliatti), Furaev Alexander (Moscow) and Hramov Andrey (Togliatti).
In total, 159 children, amateurs and riders took part in the competitions! And this despite the difficult weather conditions, which required from all participants a special fortitude and the will to win!
"The World Cup stage has taken place," said Flight Director Alexei Razhev. - There was an opportunity to ride every day of the competition. We carried out the planned program, although several times the weather brought us surprises. All participants are great. We are looking forward to see you all next season in Tolyatti